OTR II: Policies
Clear Bag Policy
In effort to enhance patron safety and expedite entry measures, a clear bag policy will be implemented.
While bags are not encouraged, the following outlines the bags that are permitted:
Clear plastic, vinyl or PVC bags that do not exceed 12" x 6" x 12" -- A logo no larger than 4.5" x 3.4" can be displayed on one side of a permissible clear bag.
One-gallon clear plastic freezer bag (Ziploc bag or similar)
Small clutch bags no larger than 4.5" x 6.5" -- approximately the size of a hand, with or without a handle or strap
Medically necessary items (after proper inspection at Gate 20 or Gate 74)
Prohibited bags include, but are not limited to:
Purses larger than a clutch bag
Briefcases
Backpacks
Fanny packs
Cinch/Drawstring bags
Luggage of any kind
Computer bags
Diaper bags
Binocular cases
Camera bags
Non-approved seat cushions, which include large traditional seat cushions that have pockets, zippers, compartments or covers
All bags will be subject to search upon arrival at the stadium, any bags that exceed the permitted size will not be allowed in.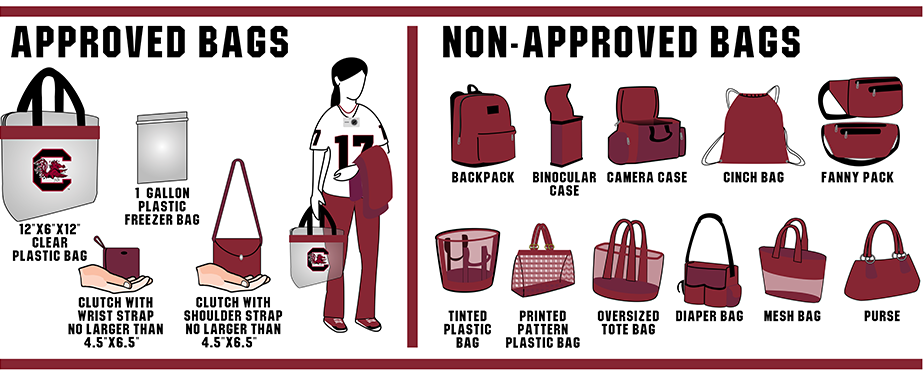 Prohibited Items
Purses larger than a clutch bag (4.5" x 6.5"), briefcases, backpacks, and cinch bags of any kind, fanny packs, luggage of any kind, computer bags/cases, camera bags/cases, binocular bags/cases or any bag larger than the permissible size (12" x 6" x 12") or that does not meet appropriate clear bag standards. Please see Clear Bag Policy.
Coolers, thermoses, cups, bottles, cans, flasks
Food of any kind
Video cameras, tripods, recording devices, detachable camera lenses over 6", selfie sticks
Weapons/concealed weapons
Alcoholic beverages
Containers of any kind
Aerosol and spray cans
Umbrellas
Mace/pepper spray
Animals (except service animals)
Laser lights, strobe lights and pointers
Irritants such as artificial noisemakers
Fireworks/explosives
Inflatables (beach balls, etc.)
Flags and flagpoles, unauthorized banners or posters
Strollers
Illegal drugs
Seat cushions that include pockets, zippers, compartments or covers
Personal seatbacks with armrests
Masks of any kind
Drones
Other items that in the judgement of stadium management pose a safety hazard or diminish the enjoyment of an event by other patrons